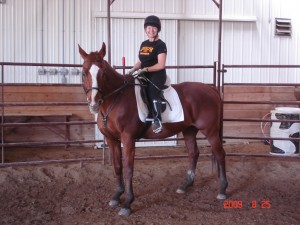 Road to Recovery: Getting Back in the Saddle
At 48 years old, Louise Townsend took up a hobby that mature women rarely tackle – horseback riding. She recalls first seeing and falling in love with a retired champion racing thoroughbred named Master Fuzz B. Within a year, she saved enough to purchase the statuesque chestnut gelding. Caring for and riding him in lessons and with friends became a huge part of her life.
A nasty fall in 2002 damaged her hip and caused severe pain, but she was determined to continue her mid-life passion. With the help of Ibuprofen and physiotherapy, she nursed her way back in the saddle. As years went by however, pain in her hip returned. By 2005, she discovered that the pain in her hip was caused by osteoarthritis, a hereditary condition that causes joints to wear out prematurely. Both her mother and grandmother had suffered from osteoarthritis, so she wasn't surprised to learn she had inherited this herself.
Within two years, degenerative osteoarthritis began to disrupt her daily routine. Treatments and prescription medications that once alleviated the pain were no longer working. She could no longer go for long walks, exercise like she used to, and much to her dismay, she eventually could no longer get on or off her beautiful horse.
In 2007, Louise was referred to Dr. David Hedden, an orthopaedic surgeon and member of the University of Manitoba Joint Replacement Group (UMJRG). She vividly recalls hearing the grim diagnosis – she had a collapsed hip and would require a total joint replacement. The operation was performed at Concordia Hospital in February 2008. Both her operation and her return to active living are absolute success stories.
As I walked up the driveway to Louise Townsend's meticulous home to interview her, I could not help but notice the well-kept yard, still crowded with colourful flowers and plants, even though we were well into October. I complimented Louise on her beautiful yard and she admitted she loved to work outside in the dirt: She then recounted the days when she wasn't so lucky.
In the days and months preceding her surgery, Louise Townsend could barely walk. Her husband would take her for neighborhood walks in a wheelchair. Yard work was out of the question. She could no longer bend, or sit on hard ground, or rake leaves without feeling horrendous pain. When the snow fell, her husband took her shopping and to the movies in a wheelchair.
Prior to her diagnosis, Louise had always been physically active. She ran marathons and regularly attended fitness clubs. As physical fitness had always been such a big part of her life, she continued to find ways to exercise even as her hip deteriorated and her femur collapsed. She discovered Pilates-yoga and as a last resort, when she could only walk with a cane, she took up swimming. Exercising in water allowed her to continue a range of motions that she could no longer perform during a regular exercise routine. Dr. Hedden acknowledges that Louise's determination in finding ways to exercise prior to surgery helped her tremendously in the healing process after surgery. In fact, part of the UMJRG's program includes prehabilitation, whereby patients partake in treatments and exercise prior to surgery, intended to improve patient outcomes after the surgery.
The surgery involves making an incision of approximately 15 cm over the upper thigh. Through this, the hip is dislocated and the damaged head of the femur removed. A new socket is then fitted into the pelvis and a stem placed inside the femur. A new ball and socket joint is then assembled. The surgery takes approximately 1 hour. Patients are generally able to walk on the new hip within the next 24 hours.
Louise recalls feeling chilly immediately following her surgery but was quickly swaddled in warm blankets by Concordia staff. Twenty-four hours later, she was encouraged to get out of bed. She was amazed to find that she no longer felt pain when she stood up. After years of enduring excruciating pain in her hip, this was a significant moment in her life. She was swollen and bruised, but the only pain she experienced was with the incision, which dissipated as the wound healed.
While at Concordia following her surgery, Louise quickly immersed herself in specialized bed and standing exercises, 'ward' walking and stair climbing under the guidance of Concordia physiotherapists-The Concordia team provided her with a thorough postoperative care package and she keenly followed their recommendations. Once home, she continued exercising her new hip and began walking on a treadmill. She worked her way up to doing as many reps as there were days since her surgery- hence at Day 30, she was doing 30 reps and walking 30 minutes on the treadmill.
Today, at 61 years of age, Louise Townsend is a picture of health. During the course of my interview with her, she ran up and down the stairs with ease… no less than five times to retrieve some information for me. She is energetic, physically active and says she feels better than she did prior to falling off her horse in 2002. She has every intention of riding Master Fuzz B. again, knowing full well that she will always have to be careful.
Louise is extremely grateful to the Concordia team of physicians, nurses and physiotherapists who nursed her back to health. "The wonderful staff at Concordia helped me regain my mobility and for that I will be forever grateful." She acknowledged. "I feel very fortunate to have been recommended to the UMJRG team and eventually operated on at Concordia Hospital."
On May 25,2008, Louise participated in a three mile walk – twenty-three laps in Winnipeg's Reh-Fit Centre – for the Hip Hip Hooray event, the Canadian Orthopaedic Foundation's flagship fundraising program. Next milestone for Louise is getting back on Master Fuzz B. Given her strength and resilience, this is an undertaking that she is sure to accomplish soon.
Written by Terry Samborski
Published Feb 2009 in Connect.. the Concordia WAy